Top 5 Design Tips for The Primary Bathroom
from Senior Interior Designer Christine Churchill
From hectic mornings getting ready for work to peaceful evening baths to unwind, a lot of activity occurs in your primary bathroom. Senior Interior Designer Christine Churchill shares her top five tips for designing a luxurious, spa-like bathroom suite.
Consider the number of small, essential items stored in your bathroom. I mean, a woman can never have too many red lipstick shades. Although bathroom storage is a practical feature, it can also be decorative. Custom cabinetry will improve the aesthetic appeal of your bathroom while allowing you to declutter.





When it comes to materials, wood is the best choice because it is solid and sturdy. There are several wood finishes to choose from; however, keep in mind that bathrooms are moisture-filled environments.

With a striking reddish hue, koa is a durable option, but it will require a sealant or paint to be watertight. With its deep ruby color that darkens with age, cherry is a popular choice for those who need to store heavier items, and like koa, a sealer is strongly suggested. However, mahogany is the best wood for a luxurious look that no other wood can match. Although it is tough to work with, mahogany provides a massive benefit in that it is highly water-resistant and extremely durable.

After you have completed your material selection, consider how you will use your custom-made cabinets. Using the inside of your cabinet doors for storage, adding drawer dividers and a laundry bin for used towels, and hanging towels from hooks inside the cabinets instead of bars are simple ways to organize and declutter your bathroom.

Accent walls are an excellent way to enhance any space. For example, in one of my projects, I installed a porcelain slab behind the freestanding tub. Porcelain is ideal for a larger wall because it is lighter than marble, making installation simpler and safer. Porcelain is also smooth rather than porous, so it won't absorb water potentially splashed from the tub. Finally, it is less expensive yet looks just as luxurious.





The freestanding tub provides a spa-like, elegant feel to a bathroom; just be ready to commit because they are cumbersome, and you may need to reinforce the floor before installation to support the tub's weight when filled with water. Also, since there are no shelves for storage, adding a small table or tub tray will be helpful for placing essential items like champagne… I mean soap!

As a smaller space, the bathroom lends itself well to wallpaper in bold patterns and prints to add visual interest and depth. Since the room is small, choose a large repeating pattern to make it appear larger. Apply an acrylic coating to standard wallpaper or use vinyl wallpaper to prevent peeling.


Lighting is essential in your primary bathroom. While functional and giving off the necessary light to get ready for the day, ceiling lights do not have to be the only option for your room. Statement lighting fixtures can become your home's jewel and add elements of luxury and personality.



To ensure your hair and makeup are on point, wall sconces mounted above or next to the vanity mirror will provide ample light. Wall sconces can be customized with their many available types and designs. However, if you genuinely want a luxurious appearance, installing a chandelier in your bathroom will provide the "wow" factor you seek.

Choosing a chandelier and sconce from the same collection works theoretically, but the result may appear generic. Instead, change your lighting with different shapes, styles, and features.
5. The ceiling is getting so much focus nowadays that other designers and I are now referring to it as the fifth wall. Tray ceilings, coffered ceilings, and crown molding are in right now. I am also seeing the return of Venetian plaster in modern design. This treatment mimics the multi-toned, three-dimensional effect of natural stone.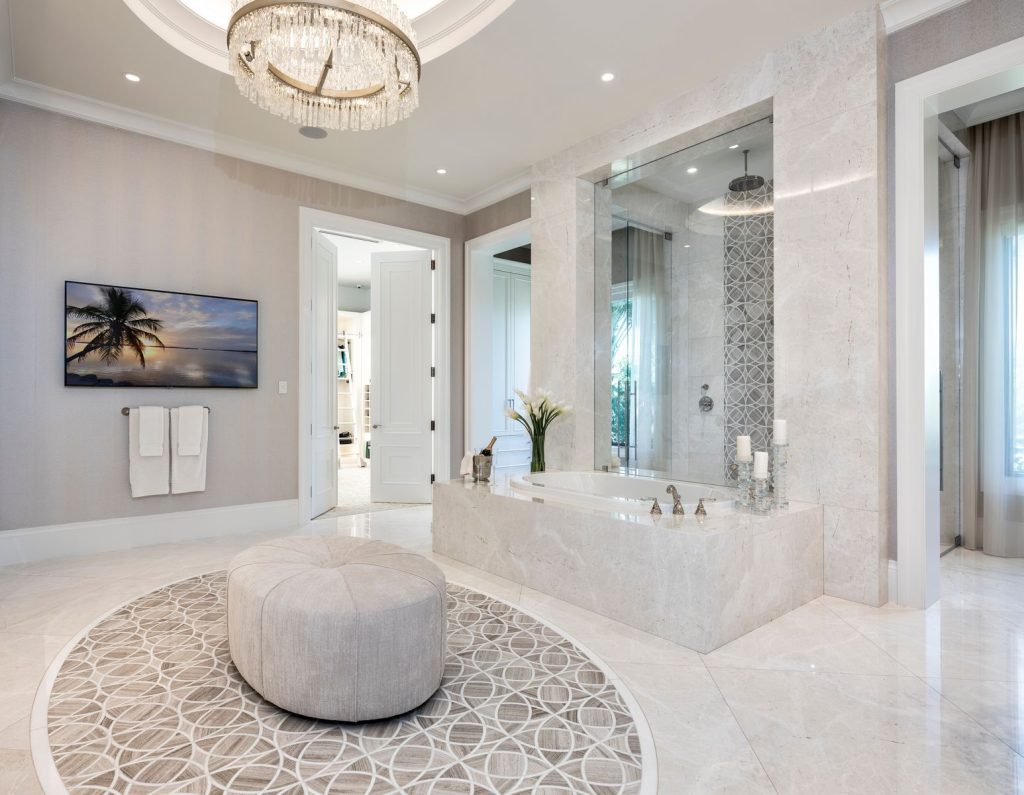 Get Started with Decorators Unlimited!
Have interior design questions? We have the answers. Complete the form below, and an interior design specialist will respond shortly.
* Services are available in English, Portuguese, Spanish, Russian, and more.