Where are you from originally?
I am originally from Bethlehem, Pennsylvania, which is a small town about an hour north of Philadelphia. I moved to South Florida when I was 17 years old, where I attended the University of Miami and studied architectural engineering. My stepdad was a professional referee for the ACC, so I came down to Florida with him to watch a University of Miami football game, and I fell in love with the city and the school.
Explain your role at Decorators Unlimited.
I've learned that I fit a little bit of everything here. You're given a lot of independence and freedom at this firm, so you kind of have to mold and learn how to fit every role. I have extensive experience with both residential and commercial projects. You learn to roll with the punches and have fun as you learn something new every day!
What project have you found to be the most challenging, and how did you overcome it?
My most challenging project was probably my first equestrian project because I was not familiar with the sport, Polo, and all of the ins and outs of having animals and staff on site. There were a handful of different buildings that had different uses to them such as storing hay, wash stations, veterinary care, etc. It was a whole other realm of design that I had never experienced before. Thankfully, I had a fabulous builder who was very helpful. The client was international, so they weren't very hands-on. It took a lot of research on my end to figure out the necessary codes and layouts. In the end, I can proudly say that it turned out gorgeous! Fingers crossed for phase two to come in the future!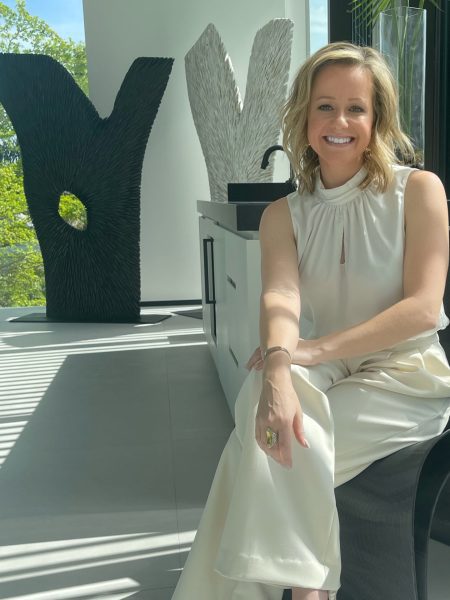 What would you say your favorite design style is and why?
I am more of a contemporary designer just because that's my personal taste, but I can fit the mold to whatever the client wants. I prefer details in the architecture as opposed to details in the fabrics. I like clean, functional spaces with good lighting. Overall, a clean contemporary design style is what I like best.
What advice do you give your clients when working with them?
Step back and enjoy the process! You hired a professional for a reason, so allow us to guide you. It's easy to get caught up in one piece, but you just need to trust the process and wait for the end result.
It's great to be able to hire an interior design firm, and when you do, you're exposed to thousands of brands, furniture pieces, ideas, and experiences that our team can bring to the table. Take advantage of that, trust the professionals, and enjoy the process.
What is your favorite project you've ever worked on?
That's a loaded question! I hope I haven't done my favorite project yet. I have been very fortunate to have really good clients. A private residence I completed in Boca Raton, Florida, is probably one of my favorite projects. The house is beautiful, and the client allowed me to experiment and try new ideas. When a client is just trusting and on the same page as you from the beginning, they're able to provide their vision but also go with the flow, things tend to work out seamlessly.
Where do you gain inspiration from? 
I'm always doing research! Searching magazines, browsing the internet, and going down the rabbit hole of trying to find something I haven't experienced before. I like to branch out and study designs found in different countries. The majority of new styles and advancements come out of Europe, so I try to steer and find inspiration from international projects. Everyone has something different to bring to the world of design, and it's interesting to see how others make it work. Lately, there have been a few design firms in Russia that have been unbelievable with the work they create. It all depends on what style you're looking for, too.
What's the best advice you have ever received? 
Control what you can control. If it's out of your hands, just let it roll off of you.
If you were designing your dream home, what's one thing you must have in it?
I have to have the best bathtub in the world! I am a bath girl; I take baths more than I like to admit. My dream home needs to have the perfect bathtub.
When you're not working, what are you doing?
I have a toddler, so my hands are full! My husband and I just bought a house, so that's taking up a lot of time, but my daughter takes priority in my life.
Written By: Caitlin Kader